Industrial Machinery Mounts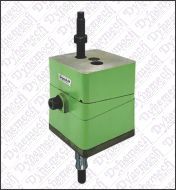 Industrial Machinery Mounts
Price And Quantity
Product Specifications
98%

Industrial Machinery Mounts
For Laboratory And Industrial Use

Green
Product Description
TPM Series Mounts are designed for industrial machines that require the machines to be placed at a height of 100mm / 150mm for proper cleaning and repairing under the machine as per IMTMA guidelines. Series DTP are designed for machines which are top heavy or have eccentric motion or machines which must be anchored to the ground.

Range of Applications:
Drilling and milling machines, machining centres, special machines, long lathes, long planers, power presses etc.

| | | | | | | | | |
| --- | --- | --- | --- | --- | --- | --- | --- | --- |
| Model | Load (Kg/pc) | Length (L) (mm) | Width (B) (mm) | Height (H) at mean position (mm) | d (mm) | e (mm) | Bore size (mm) | Adjustment range (mm) |
| DTP1-u | 1100 | 115 | 115 | 100 / 150 | 50 | 24 | 22 | 8 |
| DTP2-u | 1800 | 150 | 150 | 100 / 150 | 60 | 23 | 22 | 10 |
| DTP3-u | 3200 | 200 | 200 | 100 / 150 | 75 | 27 | 28 | 12 |
| DTP4-u | 4000 | 200 | 250 | 100 / 150 | 95 | 27 | 28 | 18 |
| DTP5-u | 6400 | 250 | 320 | 100 / 150 | 125 | 55 | 28 | 18 |
| DTP6-u | 9600 | 300 | 400 | 100 / 150 | 148 | 50 | 30 | 20 |
| DTP1-m | 1400 | 115 | 115 | 100 / 150 | 50 | 24 | 22 | 8 |
| DTP2-m | 2200 | 150 | 150 | 100 / 150 | 60 | 23 | 22 | 10 |
| DTP3-m | 4000 | 200 | 200 | 100 / 150 | 75 | 27 | 28 | 12 |
| DTP4-m | 5000 | 200 | 250 | 100 / 150 | 95 | 27 | 28 | 18 |
| DTP5-m | 8000 | 250 | 320 | 100 / 150 | 125 | 55 | 28 | 18 |
| DTP6-m | 12000 | 300 | 400 | 100 / 150 | 148 | 50 | 30 | 20 |
| DTP1-i | 1800 | 115 | 115 | 100 / 150 | 50 | 24 | 22 | 8 |
| DTP2-i | 2900 | 150 | 150 | 100 / 150 | 60 | 23 | 22 | 10 |
| DTP3-i | 5200 | 200 | 200 | 100 / 150 | 75 | 27 | 28 | 12 |
| DTP4-i | 6500 | 200 | 250 | 100 / 150 | 95 | 27 | 28 | 18 |
| DTP5-i | 10000 | 250 | 320 | 100 / 150 | 125 | 55 | 28 | 18 |
| DTP6-i | 15000 | 300 | 400 | 100 / 150 | 148 | 50 | 30 | 20 |
| DTP1-s2 | 950 | 115 | 115 | 100 / 150 | 50 | 24 | 22 | 8 |
| DTP2-s2 | 1600 | 150 | 150 | 100 / 150 | 60 | 23 | 22 | 10 |
| DTP3-s2 | 2800 | 200 | 200 | 100 / 150 | 75 | 27 | 28 | 12 |
| DTP4-s2 | 3500 | 200 | 250 | 100 / 150 | 95 | 27 | 28 | 18 |
| DTP5-s2 | 5500 | 250 | 320 | 100 / 150 | 125 | 55 | 28 | 18 |
| DTP6-s2 | 8500 | 300 | 400 | 100 / 150 | 148 | 50 | 30 | 20 |
Trade Information
Cheque, Telegraphic Transfer (T/T)

100 Per Day
2-3 Days

Asia, Australia, Central America, North America, South America, Eastern Europe, Western Europe, Middle East, Africa