Wedge Mounts Series DF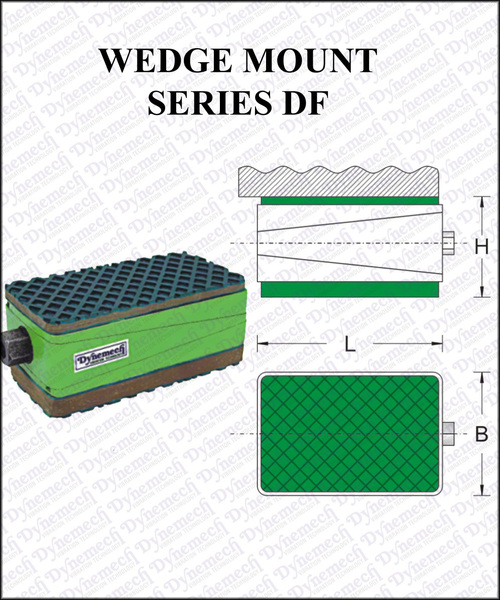 Wedge Mounts Series DF
Price And Quantity
Product Specifications
Wedge-Mounts-Series-DF

Steel
Easy To Use

For Laboratory And Industrial Use
Product Description
Wedge-Mounts-Series-DF
DF Vibra Mounts have been designed for precise leveling of heavy industrial machinery.
High quality Vibra Mounts have been developed for a variety of industrial machinery and rotationg or reciprocating equipment. DF Series vibra mounts are the ideal solution for accurate, flexible and economical machine installations.
Accurate leveling in Dynemech Vibra Mounts is achieved by three piece precision-leveling- wedges. Vibra Mounts Wedges are guided and provide: stable, accurate and precise leveling under load.
A locking nut in Vibra Mounts secures mount in levelled and aligned position.
Rubber elastomeric base with special square design and high coefficient of friction in the vibra mounts offers anti-slip during preliminary installation and fine alignment.
Features:
Vibra Mounts provide precise, accurate and smooth levelling adjustment
Different vibration damping insulation plates are combined with vibra mounts to suit different machine types
Enhanced machinery stability as large surface area covered by Dynemech Vibra Mountings
Anti vibration pads or vibra mounts absorb minor floor mis-alignments.
Easy relocation of the machinery- flexibility in factory layout as no anchoring in free standing vibra mounts.
Model

Load (Kg/pc)

Length (L) (mm)

Width (B) (mm)

Height at mean position (H) (mm)

Adjustment range (mm)

Applications

DF1-u

400

105

55

60

8

Top anti skid plate Da2 & bottom Insulation plate Du.

Applications: Tool Room Machines, Plastic injection Moulding Machines, Pressure Die Casting Machines, Shaper, Printing and Textile Machines etc.

DF2-u

900

150

75

63

10

DF3-u

1500

200

100

69

10

DF4-u

3200

200

200

71

12

DF5-u

4000

200

250

93

18

DF6-u

6400

250

320

98

18

DF7-u

9600

300

400

98

20

DF1-m

500

105

55

54

8

Top anti skid plate Da1 & bottom insulation plates Dm.

Applications: Lathe Machines, Machining Centers, Milling Machines, Precision Grinding Machines, Drilling Machine, Turning Centers, Transfer Lines etc.

DF2-m

1200

150

75

57

10

DF3-m

2000

200

100

63

10

DF4-m

4000

200

200

65

12

DF5-m

5000

200

250

87

18

DF6-m

8000

250

320

92

18

DF7-m

12000

300

400

92

20

DF1-s2

350

105

55

64

8

Top anti skid plate Da1 & bottom Insulation plates Ds2

Applications: Medium Presses, Punching Presses, Centreless Grinding Machines, Gear Shapers, High Speed Machines on upper floors.

DF2-s2

800

150

75

67

10

DF3-s2

1400

200

100

73

10

DF4-s2

2800

200

200

75

12

DF5-s2

3500

200

250

97

18

DF6-s2

5500

250

320

102

18

DF7-s2

8500

300

400

102

20

DF1-i

600

105

55

70

8

Top anti skid Da2 & bottom insulation plate Di

Applications: Power Presses, Stamping Machines, Shearing Machines, Punching Machines, For Machine with high vertical impact.

DF2-i

1500

150

75

73

10

DF3-i

2500

200

100

79

10

DF4-i

5200

200

200

81

12

DF5-i

6500

200

250

103

18

DF6-i

10000

250

320

108

18

DF7-i

15000

300

400

108

20

DF1-p

180

105

55

59

8

Top anti skid Da1 & bottom insulation plate Dp.

Applications: Measuring & Testing Machines, Surface Plates, Hardness Testers, Microscopes, EDM Machine, Profile Projectors etc.

DF2-p

400

150

75

62

10

DF3-p

725

200

100

68

10

DF4-p

1450

200

200

70

12

DF5-p

1800

200

250

92

18

DF6-p

2900

250

320

97

18

DF7-p

4400

300

400

97

20
Trade Information
Cheque, Cash Advance (CA), Cash in Advance (CID)

100 Per Day
Asia, Australia, Central America, North America, South America, Eastern Europe, Western Europe, Middle East, Africa

All India